Read This Short List
You may have great intentions to be better..a better leader, spouse, parent, golfer, teacher… intentions and desires to change and improve are NOT ENOUGH…You have to ACT on those intentions… and not just once, but consistently, in order for you to achieve the results you desire. GET STARTED NOW! The first step to fulfill those intentions is to now read how easy it is to work with Doug.
Complete Pre Call Questionnaire
It's super easy and only takes a few minutes. When you're ready just click a "Take Me To The Questionnaire" button to get started.
Schedule The Call
Once you've completed the survey, you'll schedule your call at a time that works for you using the easy online scheduler.
Receive Confirmation
You'll receive an email confirming the date and time of your Strategy Call and be given instructions on how to contact Doug. In case you don't get the confirmation, check your spam filter.
Be sure to mark your calendar(s) and set an alarm!
Attend Your Strategy Call
Please be on time to this important call! After all, your life is potentially about to change. Calls are scheduled for 45 mins…it might go a little longer or it could be wrapped up faster, depending on the situation. By the end of this call you and Doug will both know whether or not it makes sense to move forward.  And by the way, it's a totally relaxed call with no obligation or pressure. Often times people are happy with just being pointed in the right direction… or getting that 1 thing to help them take those next few steps towards realizing their personal or professional vision… And then there are those who want to leave a great legacy and would ideally like to see the realization of that while their still alive…Of the few people whose legacy is worthy of being studied, often they are no longer around (6 feet under), if you know what I mean) It's really great when People get to see their legacy take shape while they're still here….
Pick Your Level of Service
If it makes sense  you may choose to have Doug share with you how he can further assist you.  There are a lot of coaches who prefer to only do group coaching … Yet because everybody is so different, it's really by starting to work 1-on-1 personally, and getting you started on the right path, equipping you with the right strategies and tools for you, that you'll start seeing the impact you are creating in your life, and even those of your friends and loved ones.
Take Care of Investment
Once you and Doug have decided it makes sense to work together, and you've chosen the level of service that is just right for you, rest assured you have several options to easily and securely take care of your investment. Business Coaching clients may choose to have your company invoiced, just let us know.
Complete New Client Intake Forms
Once you are officially a new client, you'll be given access to our secure membership site and will then complete your new client intake forms. Here you'll be able to access other valuable information and tools depending on your level of service.
Start Your Program
This is where the magic happens. Remember, success and failure don't just occur in your life – each is a process. Every day of your life is preparation for the next – what you become tomorrow, next week, month or year is a result of what you're doing today and what you plan on doing tomorrow. Success and failure are a process and if you are not making each day count, if you're living your life by default, you can guess which process you are quickly going through. (Hint, it's not success)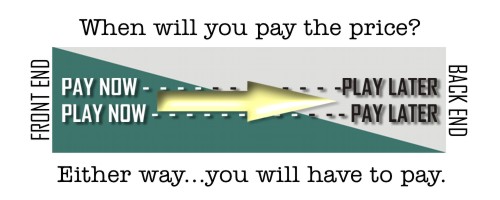 Remember, you will never change your life until you change what you're doing daily.

As John Maxwell is quoted as saying:
"Would you rather pay now and play later -or- play now and pay later? Either way you are going to pay."